Latest Attitude & Success Resources
The Success Attitude - Haunting Messages Guiding Us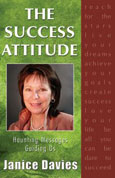 Everyone's life if a continuous journey of highs and lows….in search of happiness, love, fulfillment and success. The Success Attitude – Haunting Messages Guiding Us, is Janice's journey along with Hindsight Insights which provide an opportunity for the readers to delve one step further into personal their journey and development
Born in Huntly, Janice was bullied in high school and spent twenty years with low self-esteem before realising and turning her life around. In her journey to keep positive and create success for herself and her daughters, she was taunted by haunting messages from another realm. These constantly had her expanding her thinking and searching for solutions. She has pondered over these messages and now moves onto the edge to share this understanding with the world, realizing the 'carrot's dangled in front' of her are messages to expand herself …..as she help others.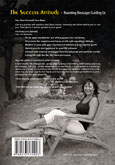 Haunting message 'to write her life story', buying a haunted house, messages from "the universe' or 'God' have all stretcher her thinking and had her wondering about 'receiving' these message and the 'why me'. Finally, she says, its taken insight, courage, knowledge, confidence, understanding and presence to write the book.
The goal of this book is to provide an 'easy-to-read' format of interest to the general public. It is suitable for either gender or a variety of ages, aiming to share a story and inform people.
The underlying theme for personal growth is getting soul first, then mind (your thoughts) and then action (your body) aligned. It shares the concept of our outer and inner worlds being aligned. The book does this from the physical and spiritual presence. It includes a variety of techniques for receiving the information and insights. It supports the following concept:
Our life has a purpose as we fulfill our potential
We are supported from both the physical and spirit world to learn to become our best
Our mission is to share and promote global wellbeing
In essence this book is about overcoming self-doubt to believe in oneself. It's about using your natural gifts to become your best on your life journey, thus helping yourself and others.
As Marianne Williamson & Nelson Mandela say: Your playing small, does not serve the world.
Chapters include:
Introduction
Sailors and Onion Skins - FREE Download
The Swan and The Leader
The Third Semester
Adventuring
Disharmony and Bliss
Plum Jam
Not a Goal
Staying Sane
Supported Becoming
Gratitude Lessons
Sailing a Different Course
Spirit World Intervention
Abnormally Haunted
Normality
Living in a Haunted House
The Message
America's Cup
In the Pursuit of Happyness
Heaven on Earth