Self Esteem Day
Creating AWARENESS OF THE IMPORTANCE OF GOOD SELF ESTEEM AS A KEY TO SUCCESS at home and work
Wednesday 21st June 2016
The aim of this International day is to promote to childcares, schools, tertiary colleges, businesses, rest homes, hospitals and other organisations in the community and into people's homes. You are invited to do:
The National Self-Esteem Day will be promoted via the media in television, radio, newspapers and magazines. Also, via business clubs, organisations, personal databases and contacts. Any help would be appreciated. This day is about people feeling good about themselves, patting themselves on the back, appreciating their gifts and talents, that they can offer their family, workplace and the country. We all have a job towards self-responsibility and to make our world the best possible.
"Congratulations on 'International Self Esteem Day' - we will certainly be celebrating it at our company, and hope it spreads around the world." - Sheryl
Promotion of Self Esteem Day:
Below are some guidelines provided for you. This is an OPPORTUNITY for you to promote this annual event to your family, friends, workmates, clients or database. As well as become part of a growing community globally. Thank you for sharing an interest in my passion. I trust that you will abide by our promotional guidelines with include the following:
Any other queries, please contact me.
The Message is about: Listen, Learn, Believe, Pass on.
"I am me. In all the world there is no one else exactly like me.
There are persons who have parts like me, but no one who adds up exactly like me. Therefore, everything that comes out of me is authentically mine, because I alone chose it." - Virginia Satir
---
Read Self esteem: undervalued world transformer >>
Esteem and Attitude:
Additional Esteem Boosters:
"I have known Janice for a number of years and watched as her idea for a National Self Esteem Day blossomed. Janice has worked tirelessly for the past few years, even to the point of funding the whole venture herself so that this very important day becomes a reality. I was delighted to be a presenter at a Self Esteem Day she hosted in 2006. In 2007, Janice's efforts were rewarded when she was NZ's only presenter at the National Speakers Association's Australian Conference. Her first step towards taking this to an International level. And more recently, she was given prime spot on the TV One breakfast show – giving her nationwide coverage on 27th June. At the time I was working in Christchurch, watching Team NZ yachting coverage, along with 90% of the rest of NZ, when I was delighted to see her name and her advertisement for the International Self Esteem Day, running across the bottom of the screen during the entire race. A well earned reward for her tenacity and passion."
- Ann Andrews, Teams From Woe To Go and The Corporate Tool-box Ltd
IT'S A PERSONAL RESPONSIBLE THING!
If you don't wash your hair, make your bed, do your housework, maintain your car or house, and look after yourself and your possessions, they all get that unkept, worn out, dirty, out of date, look. It's the same with your thoughts and feelings about yourself. If you don't look after them they'll get stale and out of date and they won't function properly. It's your responsiblity how you feel about yourself. Unfortunately for many of us, we don't understand or know how to 'fix-it'. It's not an overnight journey but it is possible. This webpage has loads of ideas, quotes and poems to help you discover how great you are.
"Your Goal in life is to find out who you are." - Author Unknown
"Well done! You did a great job of communicating what Self-Esteem Day is all about and succeeded in making me think (and take action!) It was inspirational to see someone who had an idea and is bringing it to fruition. Good luck with Oprah and the movie." - Anne Elder Knight
You may submit your articles, ideas, quotes, activities about self-esteem via post, fax or email. Also register for the Self-Esteem ezine janice@attitudespecialist.co.nz
" I saw you on television before dashing out to work. It made me realise we hadn't done any work in with the people on my course about self esteem, so I included an exercise about that as our start for the day. It went down well and the team loved it and lifted the spirit of the group." - Colleen (Workshop facilitator)
SPONSORSHIP REQUIRED FOR POSTERS TO SCHOOLS
"I am training a group of eight team leaders in the importance of giving and responding to feedback on performance, as part of a First Line Management programme. On 27thJune, I happened to see an item on TV One about Self Esteem Day which linked in perfectly with this topic. I began the lesson that day with two warm-up exercises. The first asked the group to turn to their neighbour and tell him/her one quality that a member of their team has which they admire and why they admire it. The second exercise involved them writing down three things: one physical quality they liked about themselves, one personal attribute (patience, enthusiasm, tenacity, stability, etc) and one activity they were really good at. We then shared some of this information with the group and carried on with the planned lesson. At the end of the session, I asked them if doing this had made a difference to how they felt about the lesson and if so, why did they think this? All of them remarked that they felt more involved, interested and enthusiastic about the work and added that they would use this technique (one minute praising) with their staff in the future. I feel that enriching a person's self esteem allows them to develop in extraordinary ways and is 'the secret' behind successful training in every subject." - C Porteous, Workshop facilitator
Comments from Self-Esteem Day
"Great Idea - Bigger and Better next year."
" Keep up the good work."
" A message for everybody."
" Personally Motivating."
" We all can do with being reminded about self esteem."
" Well Done."
" It's a great idea, because we do not hold all the answers to succeed."
" Longer Please."
" It keeps self esteem in the consciousness."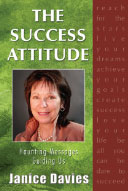 Bullying Victim to Global Leader – Janice shares her journey - The Success Attitude AND How to Get It…
My book is proof - it can be done!
Your Online Help Guide
Complimentary E-book with
125 Tips on Self Esteem - 37 pages!...
Complimentary E-book with 50 One Line Tips...
Learn how your Self Esteem is formed...
Promotional Kits for Selfday
FREE For use in ezines, newsletters, work, schools, homes or groups.
Information Sheet
Vision
General information and Overview
History
How to get involved
Future
Sponsorship
General Article
Self-esteem tips for children
Self-esteem tips for the workplace
Boost your Esteem Worksheet
Success Journal
Click here for a FREE water cooler in NZ ..
Is your cell phone's EMA radiation affecting you?
Click here..