Love My B☺☺Bs, Love Me.
In my teenage years, I didn't appreciate them. No doubt they got a few glances from the opposite sex, but I really didn't notice. Over the years, they have had a few changes.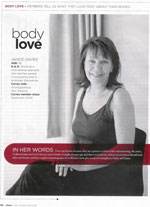 It's never too late - Curves Gym Pin Up Girl Goes Global at 55!
Click pic to read...
During the first few days of motherhood, they were the size of footballs and I wondered how I was going to cope with these for the rest of my life. In those days, 25 years ago, and we stayed in hospital for a week, the nurse wrapped them up in a massive cumber band thingy, to ease the pain. Thankfully, once breast feeding started, some normality returned to them and I blessed them for the wonderful start to life they gave my daughter. Not that she really appreciated them, as all her baby photos she looked 'chubby'. I was a good provider, I said!
A few years later when I was starting on another journey of personal development, I had to find three things I liked about my body. It was difficult at first as twenty years earlier I had being bullied at school and hit rock bottom with low self esteem. I didn't know it, but finding something to love about myself was a challenge. However, my boobs were one of them, along with my toes and my eyes.
These days, as I am in the stage of men-on-pause, I have a new admiration for them. Firstly, because my sister has had breast cancer and thankfully after her $86,000 Herceptin treatment, she has had a safe diagnosis. Secondly, as move into another phase of life and after I have been to a stylist, I was reminded to 'focus' on our good points. They may not be so 'pert' these days, but I can shape and mould them with the fabulous selection of women's' underwear in the shops.
As I have changed my thoughts on my self development journey, which continues throughout my life, I have a daily rule to ensure I 'look after me'. Although I have a home office, after I return from my morning exercise at the gym, I prepare myself for a day in the office. This includes nice shaped bras with matching knickers. No longer do I wear mismatched underwear. These days I especially like the push ups as they provide a wonderful shape to my 'not so pert' boobs and a cleavage like Sophia Loren. I follow my routine with work clothes, makeup and perfume.
Wash time comes and on the clothes line, especially if my partner is working around home that day, a selection of matching underwear, pegged by design outside the kitchen and his office window, so he can see them. Sometimes the pegs slip together closer than necessary to ensure my bras hang in a more desirable fashion, along with my knickers also 'squashed' together to create smaller size than they may actually be.
So, as I learnt to appreciate my boobs, get fitter and eat healthier, I have learnt to daily boost my self esteem so I achieve my dream of building my motivational business and travelling the world helping others boost their self esteem and succeed.
3 Tips to Love YOUR B☺☺Bs, Love YOU.
Get a proper fitting from a qualified specialist.
Wear matching bras and knickers, and show off in private.
Pamper them with talcum powder, a splash of perfume in your cleavage, or some lovely body lotion.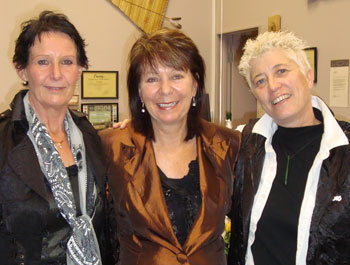 Janice with Jan and Karen, owners of Whangaparaoa Curves Gym, after motivating the ladies at the launch of the Corvettes competition.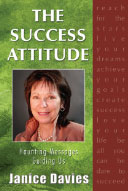 Bullying Victim to Global Leader – Janice shares her journey - The Success Attitude AND How to Get It…
My book is proof - it can be done!
Your Online Help Guide
Complimentary E-book with
125 Tips on Self Esteem - 37 pages!...
Complimentary E-book with 50 One Line Tips...
Learn how your Self Esteem is formed...
Promotional Kits for Selfday
FREE For use in ezines, newsletters, work, schools, homes or groups.
Information Sheet
Vision
General information and Overview
History
How to get involved
Future
Sponsorship
General Article
Self-esteem tips for children
Self-esteem tips for the workplace
Boost your Esteem Worksheet
Success Journal
Click here for a FREE water cooler in NZ ..
Is your cell phone's EMA radiation affecting you?
Click here..