Jean Davies - Inspiration and Role Model
In 2009 my mother and I discussed ways to raise funds for my younger sisters $86,000 Herceptin Breast Cancer Fund.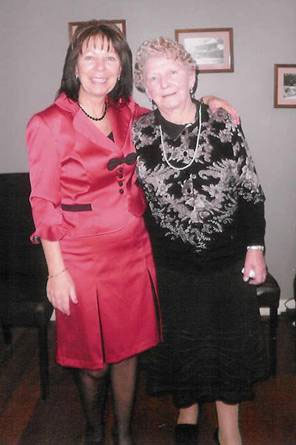 She been an inspiration to me for years and I always think, if I can do what mum is doing at her age, I'll be doing well. Additionally, I thought if I'm inspired others might be as well…so let's share. All her life she has been involved in the community services (a list is below) helping others …and at 79 years of age (then) she still is!
Consequently, Mum and I decided on her writing her first book about 60 Tips for Keeping a Positive Attitude in Retirement as a fundraiser. She covers these areas of life with 10 tips in each: Self, Health, Relationships, Financials, Work/Holiday, Community.
Aligned to the International Self Esteem Day, she appeared on the breakfast show on TVNZ discussing her book and philosophy to remaining a vibrant member of society.
That same year I nominated her in the inaugural Senior New Zealander of the Year Awards where she came 16th.
In 2010, I invited her to give her first 'real' public speaking story, sharing about her making wheatie bags as a fundraiser as well. At 80, she stole the show at a recent evening for ladies. Here are some of the comments:
"Your Mum is just so beautiful......how cute and grandmother energy is wonderful." - Tanya

"Your Mum is Awesome." - Kaylene

"Your Mum she was absolutely magnificent - what an inspiration."
- Ann Andrews: The Corporate Tool Box * Teams Woe to Go
She has also been nominated as the volunteer of the year award from her local Inner Wheel and again entered in the Senior New Zealander of the year award.
If more people could live by her ideas about life….the world would be a happier place.
An old fashioned philosophy which we need to remember today.
Give and you will receive!
FIND TIME TO CARE ABOUT PEOPLE
This has been my mother's philosophy.
People of ALL ages need to remember this.
Earlier COMMUNITY ACTIVITIES JEAN HAS BEEN INVOLVED IN.
Huntly Kindergarten - Life Member
Huntly Primary School – P.T.A. for 10 years
Huntly Rotary Club – 22 years. A Rotary Ann while Morris was a Rotarian
Huntly Presbyterian Church
Huntly Girls Brigade for ten years.
Huntly Golf Course – Ladies Committee Secretary for 7 years, Committee for 8 years
Huntly Yacht Club – 25 Years, Committee, Treasure & President
Warkworth Golf Club – Ladies Committee 4 years
Warkworth Hospice – Friday Supervisor in Shop for ten years
Warkworth Inner Wheel
Warkworth Patchwork – 20 years
Kowhai Crafts – Treasurer
Friendship Club
Walking Group
For Retirees - 60 Tips to Keep Your Attitude Positive and Boost your Esteem
By Jean Davies (79 years)
Wife, Mother, Grandmother, Great Grandmother
Home-maker, Gardener, Sewer, Golfer, Sailor's mate
My mother is an inspiration. I see her busy, motivated, changing with each new phase in her life and then I see other people who are negative and almost 'waiting for the end of their life'. What's the difference? Well I think, some of it….is in the attitude!
NZD $5.00 E-Book

NZD $10.00 Hard Cover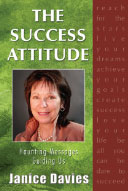 Bullying Victim to Global Leader – Janice shares her journey - The Success Attitude AND How to Get It…
My book is proof - it can be done!
Your Online Help Guide
Complimentary E-book with
125 Tips on Self Esteem - 37 pages!...
Complimentary E-book with 50 One Line Tips...
Learn how your Self Esteem is formed...
Promotional Kits for Selfday
FREE For use in ezines, newsletters, work, schools, homes or groups.
Information Sheet
Vision
General information and Overview
History
How to get involved
Future
Sponsorship
General Article
Self-esteem tips for children
Self-esteem tips for the workplace
Boost your Esteem Worksheet
Success Journal
Click here for a FREE water cooler in NZ ..
Is your cell phone's EMA radiation affecting you?
Click here..