Selfday 2012 is here, celebrate yourself on 27th June 2012
Press release Issued by Janice Davies
Selfday is the day when everyone across the world is encouraged to take care and honour themselves. To put themselves first and develop their self-confidence.
Launched in 2004 by New Zealand self-esteem expert Janice Davies, the event is now growing fast - touching all four corners of the Earth.
Driven by her desire to make a difference and help people, Janice created international Self Esteem Day which has this year been renamed Selfday.
Janice says everyone can learn to believe in themselves and to build healthy self-confidence.
"Too many people live in a place of self-doubt and inner fear. It leads to a lowering of moral and pushes people to be for ever looking inwards," says Janice.
"Selfday aims to inspire the practice of self belief and self-confidence. To help people see that they can be strong and obtain what they truly desire in life."

Janice points to research done in Dunedin where the Otago University, leads the world in their 25 years research project which revealed the importance of the first three years of a child life, as a time of determining esteem and attitudinal thinking.
One of the risk factors, indicated by the mental health and suicide prevention experts in New Zealand for developing depression in childhood and adolescence is low self esteem. Project K and Life Education Trust are two organizations addressing this.
However Janice's research in over 35 workshops to working adults around New Zealand in the last three years, also indicated that 95% of people suffered low esteem at some time in their life.

Her charitable non-for-profit organization is dedicated to sharing resources to enhance human effectiveness.
"Everyone can learn to believe in themselves and to build healthy self confidence," says Janice.
She has brought together various techniques, tips and ideas from more than 20 years of working with groups and individuals teaching self-empowerment.
Her work has taken her from playcentre groups to some of the country's largest organisations.
Davies invites people to get involved and 'make a difference' for themselves and their sphere of influence at home and work by undertaking the following:
5 Activities to boost their own esteem
5 Activities to boost another persons esteem
1 Community activity
Ideas, techniques and activities accumulated are available free on line, to assist anyone with building self-esteem at work, home and in the community.
With a group of dynamic businesses committed to expanding the self nurture message, plus with the help of national media, Selfday is continuing to gain momentum and encourage awareness.
For more information on Janice Davies' background - including free e-books, e-posters, ideas and events - see www.internationalselfesteem.com
Janice Davies is available for radio, TV and press interviews.
Contact Janice direct on 021 514 511.
The Purple Tick for SUCCESS Thinking Campaign earmarks NZ's 3rd Self-Esteem Day - 28 JUNE 2006 - Read media release >>
NZ's Self Esteem Day has now become INTERNATIONAL SELF ESTEEM DAY…
and one step close to the Oprah Show … and one step closer to becoming a world wide phenomenon.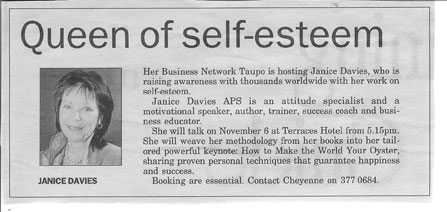 Founder of the International Self Esteem day, Janice says 'It's an idea whose time has come'. The message floated into my brain while I was walking says Janice. After 30 years of self esteem by happenstance, Janice at then turned her life around by consciously working on her self esteem daily, hourly and even minute by minute. Everything she's learnt, she's taught her children and others, now she's teaching the world.
ARTICLE ABOUT THE PURPLE TICK FOR SUCCESS THINKING
A self-esteem day for New Zealand

Do New Zealanders lack self-esteem? Are our suicide rates too high? Are social problems a consequence of bad attitudes? Attitude specialist Janice Davies thinks so and is organising an annual national self-esteem day to address the problem.

Everyone knows the red tick for a positive heart, she says, and would like to see the purple tick for success thinking on newspaper articles, television advertisements television items, and spread on other items throughout the community.
'I think it's going to be the world's first self-esteem day' says Janice who styles herself as 'The lady with "nice" in her name' and runs a small company training personnel helping companies find commercial success. She's also a professional speaker, a member of the National Speakers' Association of NZ.
The National Self-Esteem day is a 'feel-good' day, she says, whose purpose is to unite New Zealanders by getting them to think about who they are and help them to feel better about themselves. She lays out the programme for the day under three headings:
Ideas to boost your own self-esteem
Ideas to boost another person's self-esteem
Activities/goals for work, home, or school to have fun & achieve in NZ
'It's an idea whose time has come' she enthuses. 'A day for people to boost their own self-esteem, and spread it to others.
'A low self-esteem affects a broad spectrum of society, from professional people to beneficiaries. It can have a short term effect on a person when a crisis occurs in their life, or a long term affect on people where they are affected throughout their lives. Low self-esteem affects a person's self-responsibility, dependency and achievements in life.
'Prevention is better than cure', says Janice, emphasising that it's a minority group who have never been affected by low self-esteem at some time.
'It's learning to believe in oneself and understanding that life is a personal journey to success. However, many people get hampered along the way by their own and others thoughts in the form of put-downs. Then they physically and mentally withdraw and don't contribute to society.
We want people to be have a positive attitude and be a success for themselves and others.

'Nelson Mandela says " Your playing small does not serve the world"
'Self-esteem day will be non-profit, she says, organised by New Zealanders for New Zealanders and will become an annual event, on the first Wednesday in July each year. Sponsorship, ideas and assistance is welcome.
"Don't surrender your individuality, which is your greatest agent of power, to the customs and conventionalities that have got their life from the great mass... Do you want to be a power in the world? Then be yourself." - Ralph Waldo Emerson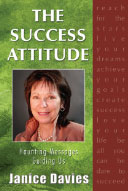 Bullying Victim to Global Leader – Janice shares her journey - The Success Attitude AND How to Get It…
My book is proof - it can be done!
Your Online Help Guide
Complimentary E-book with
125 Tips on Self Esteem - 37 pages!...
Complimentary E-book with 50 One Line Tips...
Learn how your Self Esteem is formed...
Promotional Kits for Selfday
FREE For use in ezines, newsletters, work, schools, homes or groups.
Information Sheet
Vision
General information and Overview
History
How to get involved
Future
Sponsorship
General Article
Self-esteem tips for children
Self-esteem tips for the workplace
Boost your Esteem Worksheet
Success Journal
Click here for a FREE water cooler in NZ ..
Is your cell phone's EMA radiation affecting you?
Click here..