What's It All about?
" I was having a day off work, feeling blue. After seeing you on television talking about self esteem, I rethought about myself and the qualities I had, and instantly felt better about myself." - Teacher from Hamilton
Patron : Mrs Corban
Vision:
To raise the awareness of the power and the effects of a healthy self-esteem in our lives, our workplaces, our families and our communities
Self Esteem Definition:
The sense of Purpose - Self Awareness Self Care Self Respect Self Appreciation
The sense of Talent and Identity - Authenticity Creating me Living me
The sense of Security and Worth - Being Empowering Optimism Communication
The sense of Belonging and Others - Healthy Relationships Awareness of differences
The sense of Competence and Consequence - Abundance Inner peace Balance for all
The Six Vital Ingredients Of Self-Esteem

Self-Esteem is a composite of six vital ingredients that can empower or detract from the vitality of our lives:
The six are:
PHYSICAL SAFETY - Freedom from physical harm
EMOTIONAL SECURITY - The absence of intimidations and fears
IDENTITY - The "Who am I?" question
AFFILIATION - A sense of belonging
COMPETENCE - A Sense of feeling capable
MISSION - The feeling that one's life has meaning and direction.
BETTIE B YOUNGS The 6 Vital ingredients of self esteem - How to develop them in your students. Printed courtesy of Gordon Dryden - The Learning Revolution, www.thelearningweb.net

WHAT YOU CAN DO TO PROMOTE THE SELF-ESTEEM DAY
Look after yourself
Tell other people at home, work, school
Make a phone call to family and friends and share the concept of the day
E-mail friends and family and boost their esteem and ask them to pass it on
Send a text to people
Copy and print the poster below and display at work or distribute it through your work network
Contact your customers and thank them for their patronage of your business
"Treat people as if they were what they should be, and help them become what they are capable of being." - Johann Wolfgang von Goethe
Thank you to Sponsors:
Self-Esteem Web Page Sponsor www.quik.co.nz
Media Guru www.mediapeople.co.nz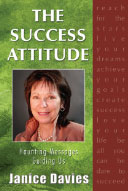 Bullying Victim to Global Leader – Janice shares her journey - The Success Attitude AND How to Get It…
My book is proof - it can be done!
Your Online Help Guide
Complimentary E-book with
125 Tips on Self Esteem - 37 pages!...
Complimentary E-book with 50 One Line Tips...
Learn how your Self Esteem is formed...
Promotional Kits for Selfday
FREE For use in ezines, newsletters, work, schools, homes or groups.
Information Sheet
Vision
General information and Overview
History
How to get involved
Future
Sponsorship
General Article
Self-esteem tips for children
Self-esteem tips for the workplace
Boost your Esteem Worksheet
Success Journal
Click here for a FREE water cooler in NZ ..
Is your cell phone's EMA radiation affecting you?
Click here..