Self Esteem Day - Stories, Poems, Quotes
Our deepest fear is not that we are inadequate,
Our deepest fear is that we are powerful beyond measure.
It is our light, not our darkness that most frightens us.
We ask ourselves, who am I to be brilliant, gorgeous, talented fabulous?
Actually, who are we you not to be?
You are a child of God.
Your playing small does not serve the world.
There is nothing enlightened about shrinking so that other people won't feel insecure around you.
We were born to make manifest the glory of God that is within us.
It is not just in some of us, it is in everyone.
And as we let our own light shine, we unconsciously give other people permission to do the same.
As we are liberated from our own fear, our presence automatically, liberates others.

From the Course of Miracles by Marianne Williamson
"All your life you are told the things you cannot do. All your life they will say you're not good enough or strong enough or talented enough; they will say you're the wrong height or the wrong weight or the wrong type to play this or be this or achieve this. THEY WILL TELL YOU NO, a thousand times no, until all the no's become meaningless. All your life they will tell you no, quite firmly and very quickly.
AND YOU WILL TELL THEM YES."
- Anon., "Nike ad"
"Well done for International Self Esteem Day..its really caught on." - Valerie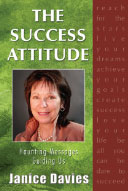 Bullying Victim to Global Leader – Janice shares her journey - The Success Attitude AND How to Get It…
My book is proof - it can be done!
Your Online Help Guide
Complimentary E-book with
125 Tips on Self Esteem - 37 pages!...
Complimentary E-book with 50 One Line Tips...
Learn how your Self Esteem is formed...
Promotional Kits for Selfday
FREE For use in ezines, newsletters, work, schools, homes or groups.
Information Sheet
Vision
General information and Overview
History
How to get involved
Future
Sponsorship
General Article
Self-esteem tips for children
Self-esteem tips for the workplace
Boost your Esteem Worksheet
Success Journal
Click here for a FREE water cooler in NZ ..
Is your cell phone's EMA radiation affecting you?
Click here..