Free self-esteem online course
This is a complimentary E-Course that will assist you with some understanding, some ideas and exercises that will move you forward in your journey of life. By no means will it solve all your challenges....it is a teaser, an introduction, a starting point for you to stretch your thinking.
I am sharing ideas and information that I have learnt in my twenty year journey from low to high self esteem.
Each part of this complimentary E-Course will provide you with new ideas and concepts.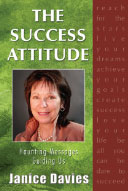 Bullying Victim to Global Leader – Janice shares her journey - The Success Attitude AND How to Get It…
My book is proof - it can be done!
Your Online Help Guide
Complimentary E-book with
125 Tips on Self Esteem - 37 pages!...
Complimentary E-book with 50 One Line Tips...
Learn how your Self Esteem is formed...
Promotional Kits for Selfday
FREE For use in ezines, newsletters, work, schools, homes or groups.
Information Sheet
Vision
General information and Overview
History
How to get involved
Future
Sponsorship
General Article
Self-esteem tips for children
Self-esteem tips for the workplace
Boost your Esteem Worksheet
Success Journal
Click here for a FREE water cooler in NZ ..
Is your cell phone's EMA radiation affecting you?
Click here..