125 Self Esteem Tips for Your Success
Contributing Authors:
Bob Wickham - Clive Littin - Kirsty Cooke - Laura Wilson - Pat Armitstead - Maria Carlton - Rhonda Gola - Shona Hammond Boys - Susanna Tuya - Janice Davies
The importance of self esteem is starting to be recognised globally as individuals, families, schools and companies are beginning to understand its importance as a key to success.

The Selfday recognises this, spreading the word and inviting you to make a difference to yourself as well as spread the word to your sphere of influence.
Enjoy and have a positive day!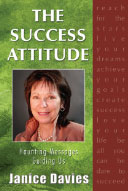 Bullying Victim to Global Leader – Janice shares her journey - The Success Attitude AND How to Get It…
My book is proof - it can be done!
Your Online Help Guide
Complimentary E-book with
125 Tips on Self Esteem - 37 pages!...
Complimentary E-book with 50 One Line Tips...
Learn how your Self Esteem is formed...
Promotional Kits for Selfday
FREE For use in ezines, newsletters, work, schools, homes or groups.
Information Sheet
Vision
General information and Overview
History
How to get involved
Future
Sponsorship
General Article
Self-esteem tips for children
Self-esteem tips for the workplace
Boost your Esteem Worksheet
Success Journal
Click here for a FREE water cooler in NZ ..
Is your cell phone's EMA radiation affecting you?
Click here..