BULLYING AT SCHOOL
With New Zealand school ranking high on the list of bullying in schools, it is time adults took notice and action.
Bullying is very real…and can lead to suicide in our children and it happens because of low self esteem.
Bullying is about low self esteem.
Bullies happen because children and adults do not know how to have good relationships.
Janice Davies - the Attitude Specialist founded Selfday or International Self Esteem day was created as an annual awareness day to educate about the importance of self esteem.
Statistics now confirm the importance in dealing with these issues. Below are 10 tips.
Listen to your children and ask questions to prompt some discussion.
Discuss bullying with your children
Ask your children or any of their friends to tell either their parent, friends, teachers or someone about any bullying
Tell the children – not to take it personally. It's not just about them…it could be anyone.
Tell the children that if it wasn't 'them' who was being bullied, it would be someone else.
Bullies are cowards who don't feel good about themselves so try to put others down.
Bullies have low self esteem and only pick on others who also have low self esteem.
If you are being bullied – list things/tasks/skills/passions/sports anything that you enjoy and you like about yourself.
Seek help from any of the services – Lifeline or any other organization.
Learn about self esteem and how to boost it in your children.
Download the 125 free ebook where there are tips provided there by another teenager
who has been bullied, along with many other tips to improve esteem.
For more information contact Janice Davies on janice@attitudespecialist.co.nz
Or 021 514 511 or visit Janice's website www.attitudespecialist.co.nz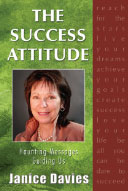 Bullying Victim to Global Leader – Janice shares her journey - The Success Attitude AND How to Get It…
My book is proof - it can be done!
Your Online Help Guide
Complimentary E-book with
125 Tips on Self Esteem - 37 pages!...
Complimentary E-book with 50 One Line Tips...
Learn how your Self Esteem is formed...
Promotional Kits for Selfday
FREE For use in ezines, newsletters, work, schools, homes or groups.
Information Sheet
Vision
General information and Overview
History
How to get involved
Future
Sponsorship
General Article
Self-esteem tips for children
Self-esteem tips for the workplace
Boost your Esteem Worksheet
Success Journal
Click here for a FREE water cooler in NZ ..
Is your cell phone's EMA radiation affecting you?
Click here..