Susan Boyle was Bullied at School
Behind her angelic voice lies a lifelong struggle with depression and bullying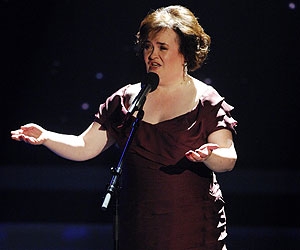 As fears for her sanity escalate, overnight sensation Susan Boyle has bravely spoken out about the real reason behind her erratic behaviour.

The Britain's Got Talent singer, whose recently released debut album I Dreamed A Dream has broken a slew of chart records, speaks slowly and softly as she reveals heartbreaking details of her ongoing struggle with depression. The 48-year-old Scottish-born star blames the mood swings she suffers on a 'hellish' childhood that was checkered with cruel taunts and bullying.

'I can be up and down like a yo-yo,' she admits. 'I can be depressed. I know I'm taking a chance by telling people this, but you have to be honest. I used to be made a fool of at school. It was psychological bullying and that leaves a scar. It also cultivates a lot of anger.'

As a youngster, the unlikely star had learning difficulties after being briefly deprived of oxygen at birth - a result of her then 47-year-old mum Bridget's difficult labour. Susan says the constant jibes and lack of understanding shown by her school peers and teachers deeply affected her while growing up, and says the effects still plague her to this day.
'When people are a little bit slow, others pick at them,' she explains. 'I was called names because of my fuzzy hair and because I struggled in class. They used to knock me about a bit and try to make me cry. My life was made absolute hell.'

Sticks and stones
Susan reveals that music was her only emotional release.

'I used to go up to my bedroom and play records,' she says. 'I could be who I wanted to be. I used to imagine myself singing to an audience. It was my safe haven.'

John, Susan's 60-year-old brother, recalls, 'I used to wake up to the strains of Grease each morning. Susan would hear a tune once and that was it. She was note perfect and key perfect. We're so used to hearing her, we just took it for granted.'

After Susan was admitted to London's Priory Clinic for exhaustion following her Britain's Got Talent defeat in May, industry insiders have kept a close eye on the emotionally fragile songstress.

'I hadn't slept properly for about a week and I didn't know what was wrong with me,' she says. 'It was totally out of control.

'But I look back on it now and it was a necessity. I wanted to get a rest, without all the cameras.'

Her recent odd behaviour surrounding the release of her highly anticipated album last month - which included sucking her thumb in public, strange body movements and face-pulling - has only renewed speculation that she's not fit to handle the immense pressure of her meteoric fame.

But the humble performer puts her quirky antics down to a reaction to her hectic new lifestyle.

'I can be a bit funny after being tired, but whenever I go on stage I forget about all that,' she says.

After wowing viewers with a spine-tingling rendition of the Les Miserables classic I Dreamed A Dream on the hit UK reality show, Susan finds it hard to comprehend how much her life has changed.

'I'm the wee wifey with the mop and the cat,' she says. 'I went from being an unknown, with nobody bothering me on the streets, to all these headlines like "The Hairy Angel". The pressure of that I found a bit suffocating, because it all happened in such a short space of time.'

This is it
Despite still coming to grips with the highs and lows of the limelight, Susan's determined to make the most of her once-in-a-lifetime opportunity.

'I've got a communication with the audience. I'm told I'm a different person on stage. I keep asking myself, "Is this really happening?" And I keep expecting someone to say, "Haha love, we're kidding."'

Before hitting the big time, Susan, who's the youngest of eight children, lived a lonely and reclusive life in the sleepy Scottish village of Blackburn.

To this day, the former church volunteer lives in the modest four-bedroom family home with her 10-year-old cat, Pebbles.

Susan's mother's death in 2007 affected her immensely, and was the catalyst for her Britain's Got Talent success. Hindered by severe depression and anxiety, she stopped singing in church choirs and pub karaoke sessions.
'But out of the darkness came light,' Susan says. 'I realised I wanted to make Mum proud of me. I never thought I was good enough for the show. It was only after she died that I plucked up the courage to enter. I always promised her I'd do something with my life.'

Even with the pledge to her beloved mother fulfilled, Susan still lives with one big regret - never getting the chance to
have a family.

'I love kids and would have liked to be a mum,' she admits.Despite this wish, the famously single star, who openly declared she's never been kissed, is in no rush to find that special someone to share her life with. 'I've had offers of dates,' she said.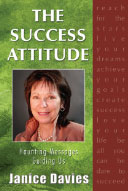 Bullying Victim to Global Leader – Janice shares her journey - The Success Attitude AND How to Get It…
My book is proof - it can be done!
Your Online Help Guide
Complimentary E-book with
125 Tips on Self Esteem - 37 pages!...
Complimentary E-book with 50 One Line Tips...
Learn how your Self Esteem is formed...
Promotional Kits for Selfday
FREE For use in ezines, newsletters, work, schools, homes or groups.
Information Sheet
Vision
General information and Overview
History
How to get involved
Future
Sponsorship
General Article
Self-esteem tips for children
Self-esteem tips for the workplace
Boost your Esteem Worksheet
Success Journal
Click here for a FREE water cooler in NZ ..
Is your cell phone's EMA radiation affecting you?
Click here..